Terry's history with otters.
I've always been very interested in river otters. As a kid growing up in Prairie City (Eastern Oregon), I spent immeasurable hours fishing for trout on the main fork of the John Day River and wondered why we never saw any. If otters had been present, I would have seen them.
As I grew older, and left my past outdoors-man lifestyle in exchange for nature photography, I really wanted to photograph the North American river otter. I traveled farther afield and saw more and more of them. To my great dismay, I could not seem to produce a decent photograph.
Years ago, I spotted a group of otters that seemed to be feeding in the Yellowstone River. I parked my rig, got out and set up a big lens to try to photograph them. Hordes of nature photographers populate Yellowstone National Park in the fall of the year. A lens on a tripod pointing at a subject is an immediate draw. Instantly I had nearly fifteen photographers joining me at the roadside. Meanwhile, the otters moved to the river bank nearer to us. A tourist approached with a point-and-shoot camera. Not having a long lens, he walked right up to the bank for his picture. At that point, one of the otters popped out of the water and began to sniff his pant cuff. The tourist started to re-position himself for a shot at it. The big lens photographers shouted at him, "Don't move! Don't move!" – sounding as though they were in total command. I was so disgusted with their arrogant and very overbearing performance that I wanted to shout back at them that tourists have as much right to get a photo as they did. I sure didn't get any worthwhile photo of otters on this day. For whatever reason, I've always had difficulty getting good otter shots.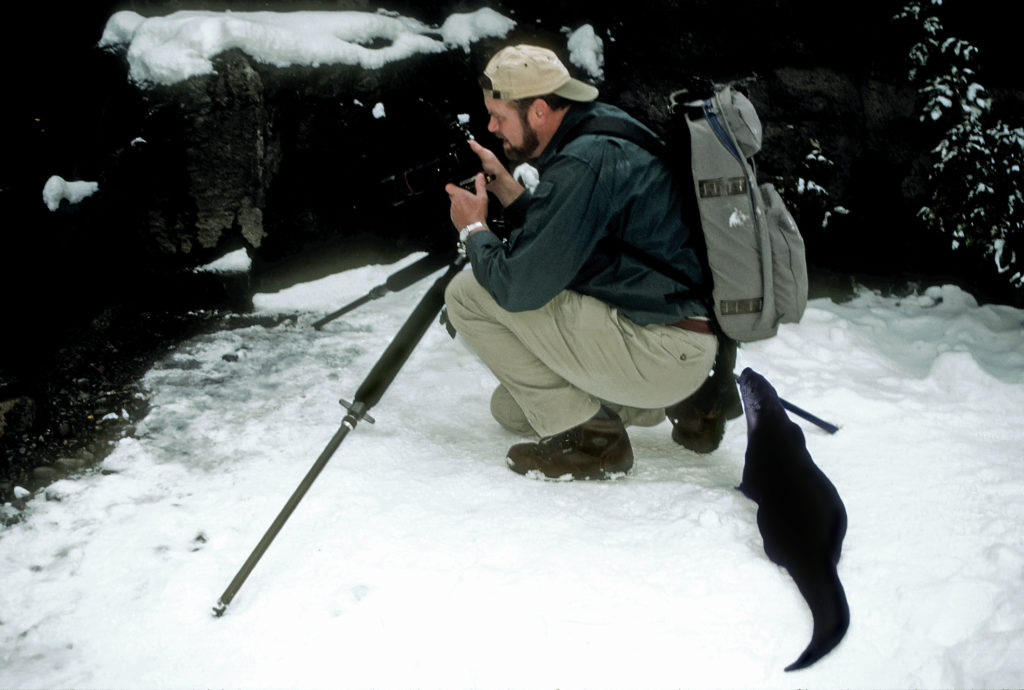 Several years later, in Big Cypress National Preserve near Everglades National Park in Florida, I encountered otters twice. The light was so poor that I had to shoot 400 ISO speed film. This film produced very grainy photos, not good for much but a slideshow. At least I got a couple of pretty nice otter shots.
There is not enough room here for me to tell of all the opportunities to photograph otters that didn't work out. However, my wife Kay, doesn't seem to be walking under the same dark cloud in this regard. I'll let her tell about the week of the otters we recently experienced.
– TRS
The Week of the Otters
Early February, 2017, Grant County, Oregon.
We've just experienced a harsh winter that produced unusually thick ice on our two local rivers – the North Fork and Middle Fork of the John Day River. A sudden thaw brought an abrupt breakup of the ice in early February. Terry headed down to the North Fork to check it out. He was rewarded by a surprise encounter with a pair of river otters. They obliged him with wonderful photos. (This link to our last slide show of the season, Winter Wildlife in Grant County, Oregon – Part III, includes his otter photos.)
Four days later, Terry drove us up the Middle Fork, providing me the opportunity to photograph whatever we could spot. I never dreamed I'd have a chance to track another otter along the river.
This time the light was good, and the otter was very cooperative. Again, the large blocks of ice in fast flowing water seemed to force the otter out of the river to travel along the bank.
This constantly moving otter paused long enough to play in the snow. It dived out of sight, popped up and sledded on its belly – all for the fun of it.
Repeatedly, Terry moved us up the river with the otter as I photographed it running along the bank, climbing over ice slabs and swimming stretches of open water. I don't expect to have another opportunity like these two days for a long time; but we seem to have broken the otter jinx Terry had been living through past years.