A recent photo shoot in northern Grant County revealed a problem that causes injury and death to wildlife. Miles and miles of old rusty barbed wire is strewn across the countryside from years and years of neglect of abandoned fencing. Downed wire creates death traps for animals – wild and domestic.
Placing blame for this tragic situation is not useful. Abandoned wire is found on both private and public lands. Its use is required where fencing cows is necessary; however the deadly accumulation of old barbed wire will barely be noticed – until something bad happens. Rutting deer (and elk) do battle for available mates. They lower their racks and thrust themselves forward to clash. As they charge to and fro, their antlers can easily become hopelessly entangled in downed barbed wire. As a result, many of these bucks are destined to a long and painful death. They may be unable to eat, drink or protect themselves from predators or the elements.
On this day in early November, a beautiful mule deer buck, dragging barbed wire, pulled his way to the cooling waters of the Middle Fork of the John Day River in Grant County, Oregon. We first spotted him standing in the middle of the river; he was soaking wet and momentarily frozen in a state of exhaustion. Panting hard, he kicked up his back feet as he plunged and swung his head back and forth.
Unable to shake the wire free of his antlers and feet, he charged down river again before leaving the river for a panicked dashing run alongside it.
He returned to the water again, kicked and leaped his way up the river for a hundred or more yards, and finally took off after a passing doe. The barbed wire was still snagged in his antlers as they disappeared over a high ridge. Short of a miracle, the wire will become hung up somewhere and he will meet an unnecessary fate.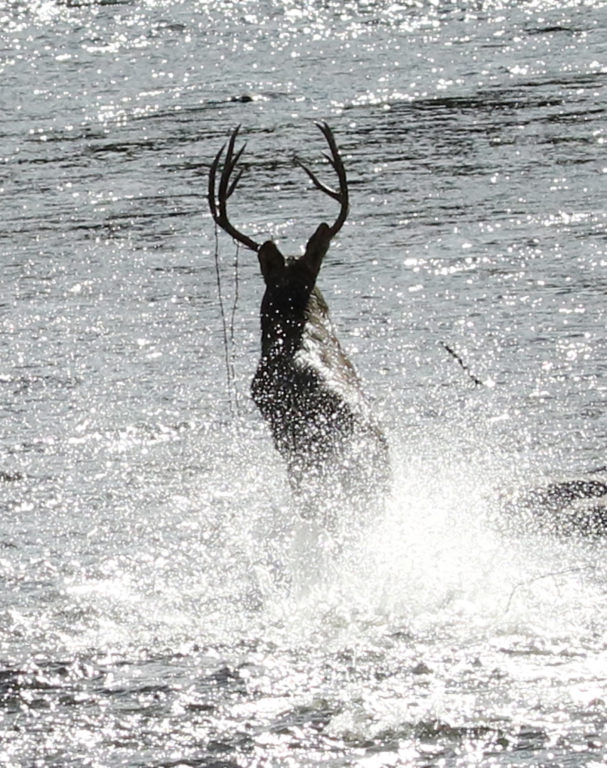 Unbelievably, in less than an hour, about 25 miles away, we witnessed another mule deer buck catch his rear feet in barbed wire as he leaped a partially downed fence.
He struggled a bit but was able to kick his way free – this time.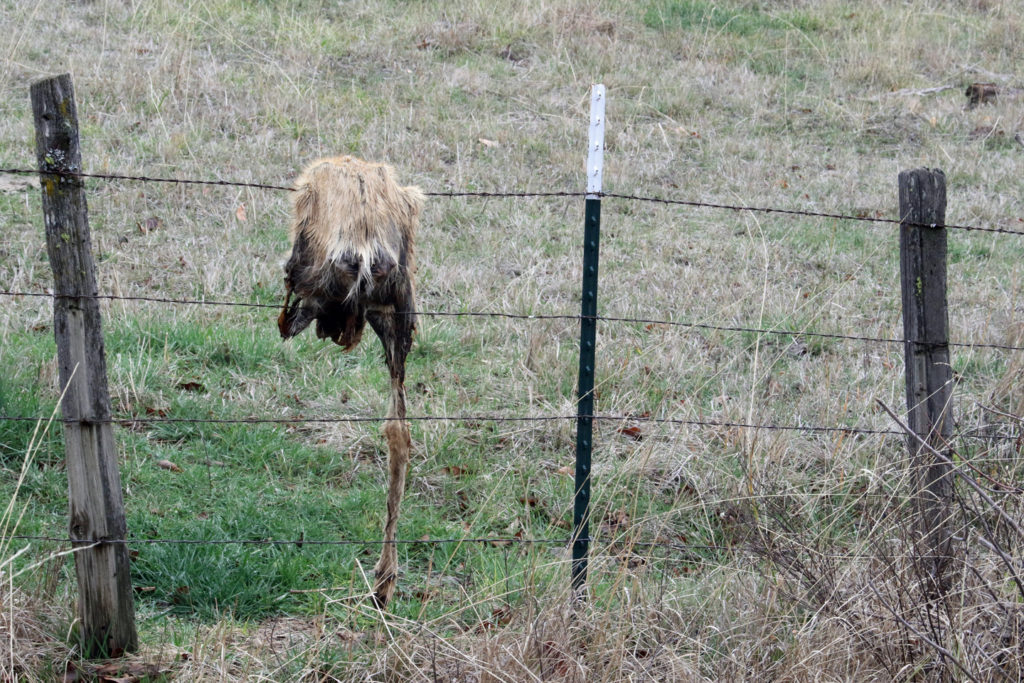 There are many problems in our county that are hard to know how to fix. This is not one of those. The problem of abandoned barbed wire is solvable. Ranchers can lead the way – work collaboratively with public agencies to conduct a countywide cleanup. It is recognized that ranching is more than a full time job, but there are possibilities and opportunities to turn this into a win-win situation. Partnership grants can put people, especially our youth, to work removing this hazard. A sense of value and pride for accomplishing this task would be a worthy outcome. Recycle the rolls of discarded wire. The removal of barbed wire risks will benefit horses, cows, hunters, hikers and yes, the wildlife we all cherish.