Lions – interesting in Kruger, prettier in Kagalagadi.
If you are interested in photographing wildlife in Africa, lions will be a highly prized subject to have in your viewfinder. Even if you are more broadly interested in wildlife than the "big five," the lion, at the top of the food chain, cannot be ignored and it is thrilling to the core when you are in close proximity to the king of beasts. That said, lions as photo subjects vary greatly between those of the open dunes of Kagalagadi in the Kalahari Desert and those in the thorny bushveld of Kruger National Park. There are pluses for both localities and downsides too.
Kruger National Park lions are more numerous and see-able. One serious drawback is the condition of many Kruger cats. The thorny brush and predator competition, due in part to a higher density of animals, leave many lions with scars and battle wounds.  In general, it seemed that life was a bit rougher for wildlife in Kruger.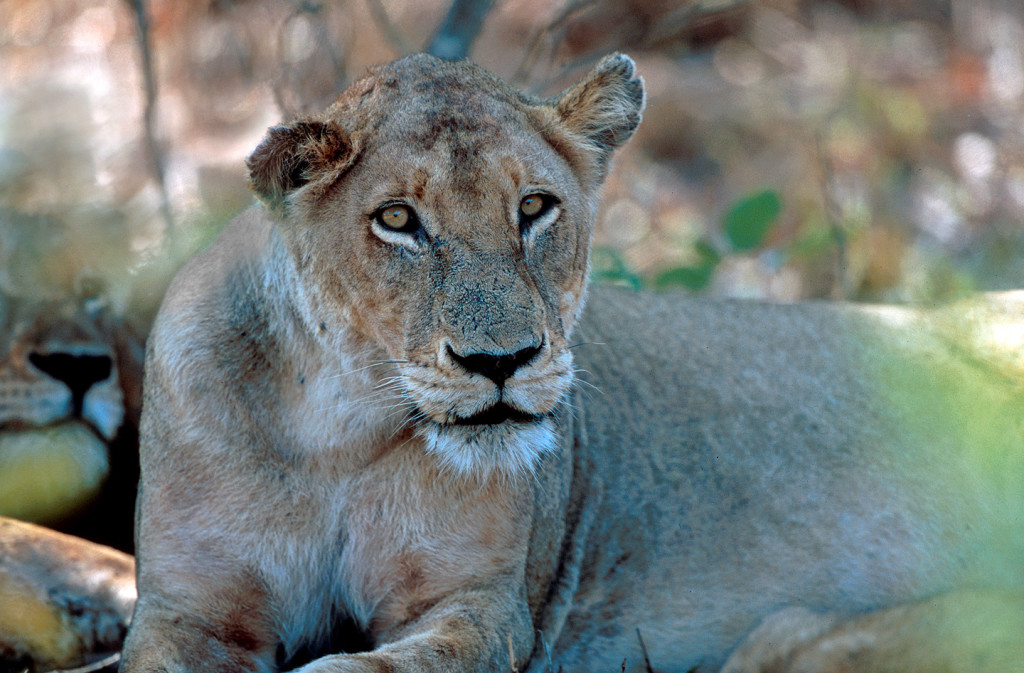 If you take another good look at the last lion photo, you can see that this is one very used up old guy, maybe old great-grandpa. Nearly every televised educational nature documentary about lions we've seen has shown footage of what happens when the king of a lion pride is challenged and overcome by a younger, stronger male. The displaced old man is driven out from the pride, if not killed, and even the cub offspring of that old lion are killed by the new king. Photographing this very old lion among the younger male and females at the buffalo kill really left us scratching our heads. What is going on here? He obviously laid among the others, gorged and in a state of sleepy bliss. We sure would like to know how this scene fits into everything we previously believed about lion pride behaviors. Not all lions in Kruger were so rough looking as those at the buffalo kill. The following lion was a beautiful animal.
Kalagagadi Transfrontier Park (accessed at the northwest border of South Africa with Botswana) is a part of (and wide open to) the Kalahari Desert. Animals are widespread and free to roam beyond human approach. The ancient dry river bottoms contain watering holes that draw all varieties of prey and predators of the desert. Uniquely adapted birds, small mammals, reptiles and several antelopes – gemsbok, blue wildebeests, and springbok, come to quench their thirst. Wildcats roam the Kalahari for prey, so when the lions arrive at the watering holes photography and wildlife viewing ratchets up like nowhere else. Those same sandy old river beds are the predominant paths of travel for humans, who are pretty much ignored provided they remain safe within their vehicles. (Anyone who violates this precaution and ventures out in view of lions is beyond foolish.) There is unparalleled opportunity to photograph lion–prey interactions at watering holes in Kagalagadi. The beauty of the Kalahari lions that frequent them is evident in these photos.